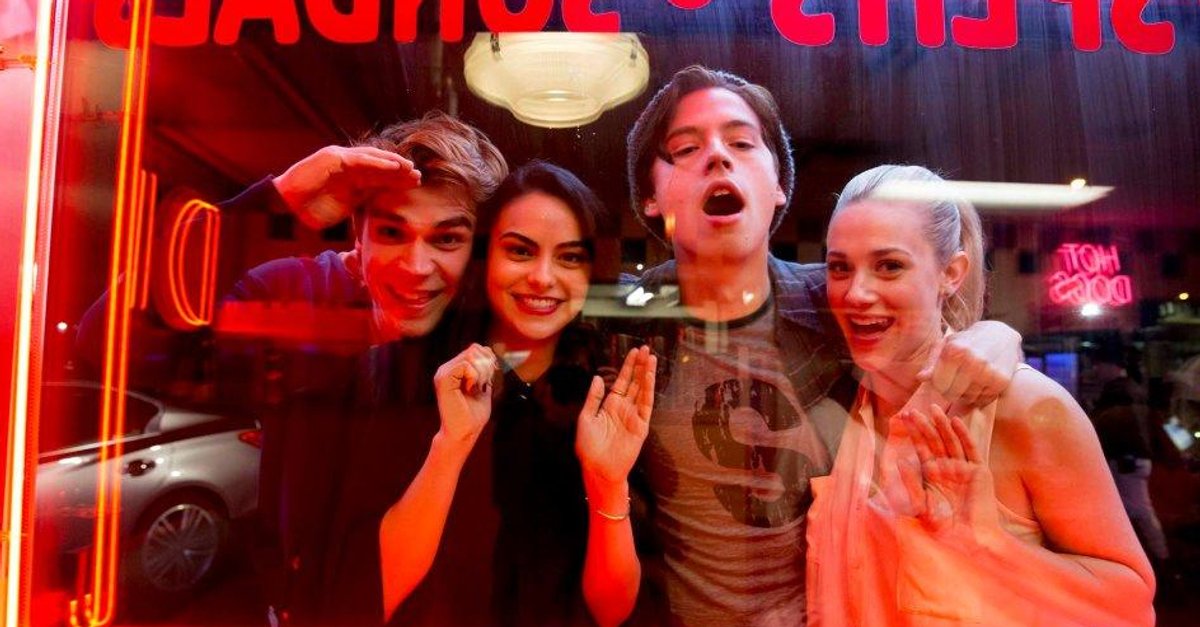 Because a deep dive would take too long. A short recap before season five.
This article will discuss real-life murder, fictional student-teacher relationships, fictional bad parental relationships as well as fictional suicide. It will also use "queer" in a reclaimed context.
Introduction
In 1924 (I promise this will be relevant), two gay men committed a crime fueled by hubris; they were convinced they could commit the perfect murder. Given that we know these men were Nathan Leopold and Richard Loeb and one of them ended up stabbed to death in prison, it's safe to say that their murder wasn't as perfect as they'd hoped. However, they inspired multiple works of art. Two examples are Hitchcock's timeless masterpiece of filmmaking Rope and Roberto Aguirre-Sacasa's play Archie's Weird Fantasy. 
Based on a one-act play called "Archie Loves Nathan" that Aguirre-Sacasa penned in his graduate days, Archie's Weird Fantasy deals with Archie moving in with Nathan Leopold after coming out of the closet. By the end, Archie is dating Jimmy Olson from the DC Universe. Archie Comics, while not widely known in most European countries, is a staple of American pop-culture and Archie isn't the only character from the long-running series looking for luck in New York; his friends Betty, Jughead, and Veronica are also there. Before it could ever hit the stage, though, a cease-and-desist order reached Aguirre-Sacasa, issued by no one else but Archie Comics (DC seemed to be fine with their star reporter being gay in a non-licensed indie theater production). To this day it is unclear whether the issue was Archie's involvement in a love triangle with two real-life murderers or his homosexuality. Despite the order, the play premiered anyway under the title Weird Comic Book Fantasy with the same story and a few changed names (Veronica Lodge, for example, became Monica Posh).
Since 2016, Roberto Aguirre-Sacasa has been enjoying the position of chief creative officer for Archie Comics as well as executive producer for the entire Archieverse TV slate. "[W]ithout ['Archie's Weird Fantasy']", Aguirre-Sacasa tweeted in 2019, "Riverdale wouldn't exist". With the show's fifth season on the horizon, it is now the perfect time to ask: what is the CW's hit-show that boasts itself on being called "absolutely crazy" and a "thirst trap" by the New York Times? Doing an in-depth look into the show would take ages so I will outline the basic plots divided by season and roughly by character while pointing out ways in which the show sets itself apart from other teen dramas. Since a lot happens on Riverdale, this will be divided into two parts.
Before we proceed, a short character guide for the uninitiated. Archie Comics take place in the fictional town of Riverdale, which is what the TV show took its name from. Archie Andrews (KJ Apa) has been described as "the teenage equivalent of a golden retriever" and honestly, there's no better way to put it than that. In the comics, the high schooler is constantly caught between the girl-next-door, his childhood best friend Betty Cooper (Lili Reinhard), and the spoiled rich girl Veronica Lodge (Camila Mendes), whose father owns basically the whole town. Archie's best friend is the food-obsessed, wise-cracking Jughead Jones (Cole Sprouse), who, in the show, acts as a narrator.
Season One
I like to think of Riverdale's first season as a thirteen-episode pilot. It doesn't look as polished as the rest of the show and, plot-wise, is not as dense. Not all established lore sticks around, but one thing that stays consistent are the characters; the problems they face this season are a small-scale reflection of personal issues they will be confronted with time and time again.
The show starts off common enough, or as common as a teen drama with "age-inappropriate casting" (Quote: "A Night to Remember", 2×18) and mystery elements can be. Jason Blossom, twin of Cheryl Blossom and Riverdale's golden boy, has died. In connection with his death, many secrets of the town are revealed. The set-up is reminiscent of a gender-swapped Twin Peaks, a show that Aguirre-Sacasa has cited as one of his main influences for the show. Indeed, visually Riverdale is more reminiscent of the David Lynch show than, for example, Glee (where Aguirre-Sacasa was a staff writer). One of Riverdale's biggest strengths, even in the first season, are its aesthetics. You can see that the network set out for this to be its flagship teen show. Even before getting into the show, I was impressed by the obvious effort all departments put into the show, whether it's costumes, set design, lighting, or camera. While Aguirre-Sacasa is undoubtedly the main force behind the show, Riverdale is a testament to the collaborative nature of filmmaking.
Archie Andrews has the most classic high school drama plot, struggling to choose between music and football, even in this "post-James Franco world". On the side, he has to hide the predatory relationship between himself and the music teacher, Miss Grundy. Student-teacher relationships are nothing new for the genre; think, for example, Aria and Ezra on Pretty Little Liars. Unlike other examples, though, Riverdale does not shy away from condemning the dynamic. It starts off as a kind of "forbidden romance" story, but while Archie remains adamant that he is a consenting, equal participant in this relationship, those around him don't agree. Miss Grundy is called a predator multiple times, the fact that their relationship is straight-up illegal doesn't get turned into a "hot forbidden love" narrative and if there were any doubts left, season two shows that she has a habit of seducing her adolescent male students and has her face strong repercussions. Once the affair is revealed, we see the terrible effect it has on Archie as he breaks down crying in his car; his father Fred holds him and gently tells him that the whole thing was not his fault. The end of the season has Archie realise that he can do both music and football. He also starts a relationship with Veronica and Fred gets shot in the town's diner by a man in a black hood.
Continuing with Veronica Lodge, she is dealing with the typical challenges you face when you start at a new school after your father has been imprisoned for fraud and embezzlement. She quickly befriends Betty, has a minor rivalry with Cheryl Blossom, falls for Archie, fights slut-shaming, joins a band, and discovers that her mother Hermione is involved in property fraud while cheating on her husband with Archie's dad. Veronica isn't pleased with either of her mother's actions and engages in psychological warfare because that's how her family deals with problems. Even though her father does not appear on screen, his grasp on both Veronica and Hermione is tight; he impacts not only the way Veronica is perceived but also the way she thinks. A large part of her season one arc is having to come to terms with the fact that her father is the criminal everyone makes him out to be. She does this by compartmentalising, which she remains great at throughout the show. Despite her mother's "shady business" and her father's blackmail, Veronica doesn't have it the worst when it comes to parents (yet). That honour belongs to Jughead Jones.
His father FP is an alcoholic gang leader whose drinking has driven Jughead's mother and little sister away. Jughead feels lost in Riverdale and his big issue this season is finding his place in the world. Also, he's homeless and lives at a drive-in theater because he cannot bear to live with FP. On the side, he joins Betty at the Blue and Gold, Riverdale High's student newspaper. There, Jughead discovers a knack for sleuthing and takes a liking to Betty with whom he investigates Jason Blossom's untimely demise.
While Betty starts the season mooning over Archie, she soon gets pulled into the mystery surrounding Jason Blossom's death. As it turns out when the body is discovered, Jason didn't drown – he was shot. The question of "Who shot Jason Blossom" hangs over the town of Riverdale. Unsatisfied with the biased reporting of the Riverdale Register (run by none other than her parents), Betty resurrects the school's newspaper to balance it out. In her investigation, she discovers that Jason and her sister Polly planned to run away with each other after realising that Polly was pregnant. The two of them had a tumultuous relationship that culminated in a secret engagement. There was many a reason the two wanted to run away together; for one, Betty's great-grandfather was a Blossom and was killed by his own brother. Thus, the two families hold a bit of a grudge, especially from Hal Cooper's side. Furthermore, Jason didn't want to join in on his dad's heroin business. In the end, it turns out that it was Jason's father who shot him and that FP, Jughead's dad, helped him get rid of the body. FP goes to prison, Clifford Blossom hangs himself, Cheryl Blossom sets her house on fire and Jughead, unwanted by his mother, gets put into a foster-family on the Southside, where he will attend the Southside High.
After season one, we know a few central things about the core four that will follow them throughout the seasons: Archie is kind of stupid, easily manipulated and has a very big heart, Veronica is all for #girlpower and ignoring her parents' more criminal dealings, Jughead is poor, and Betty's family has a few skeletons in their closet.
Season Two
The main mystery of season two is: "Who is the Black Hood?" As previously mentioned, Archie's dad gets shot in the town's diner by a man in a black hood. Fred's fine (eventually), but Archie is a little traumatised by the whole event, especially when reports of murders start cropping up. Riverdale's got its very own serial killer, out to punish those he deems "sinners". The victim after Fred is Miss Grundy, who had to leave town and is still at it, seducing students. Her gruesome death reaffirms that the show does not endorse her actions. Archie first assumes the Black Hood is targeting people close to him, but when his classmates Midge and Moose get attacked by him, he moves away from that theory. Betty, on the other hand, has a connection to the Black Hood. He begins calling her and psychologically torturing her; in one instance, he forces her to give him the name of a sinner, lest he kill her sister and the twins she has by now given birth to. All of the core four investigate the Black Hood, Betty and Jughead more enthusiastically than Veronica and Archie.
In the Christmas-themed episode "Silent Night, Deadly Night" (2×09), Betty and Archie team up for the investigation. The previous episode had the two main couples call it quits; Jughead breaks up with Betty because she tries to show she's okay with him joining the Serpents by doing a striptease pole dance to a slow cover of "Mad World", Veronica and Archie because Veronica is too emotionally repressed to say "I love you" back. So it's no big deal when Archie and Betty kiss after they question the Blossom matriarch, Nana Rose, about an act of vigilantism taking place in Riverdale years before. As the episode goes on, Betty buries Archie alive and the Black Hood gets shot on a bridge (but not by Archie, even though he held him at gunpoint). The face behind the hood is revealed to be the school's janitor, who witnessed the murder of his family as a child. Archie isn't so sure, though, because one thing he remembers is that the Black Hood's eyes and the school janitor's don't match. But for a while all is calm, all is bright. That might be a bit of an overstatement, but at least they don't have a serial killer running around.
Before we move on to the season's minor mystery, let's check in with Jughead. Instead of moving in with his foster family, he lives at his dad's trailer on his own, but he has to transfer to Southside High, where he falls in with the Southside Serpents. Finally, he finds an answer to the question of where he belongs: He belongs to the Southside, the Serpents. Unfortunately, Southside High gets shut down because of an alleged drug lab in the basement, so Jughead transfers back to Riverdale High. In-between joining a gang, investigating the Black Hood and looking into Riverdale's drug trade, Jughead also tries to get his dad out of jail. He finally manages to do so with the help of Penny Peabody, "the snake charmer", who first entraps Jughead and later a newly released FP into helping her move jingle-jangle (Riverdale's party drug). In the Christmas episode, Jughead carves off her Serpent tattoo with a knife and banishes her from Riverdale.
Veronica's plot in 2×09 is less gruesome; she realises, apparently for the first time, that she's very privileged and her parents are obscenely rich. That realisation doesn't last too long, but at least she pays Fred's hospital bills. The topic of Veronica's parents and realisations leads nicely into the season's minor mystery: What the hell is Hiram Lodge up to? He's newly released from prison and already back in business (meaning crime). For most of the core four, their storyline relates back to Hiram; Veronica wants a seat at the grown-ups table in a futile effort to keep her parents honest and help them go legitimate; Archie desperately wants to impress Mr Lodge and sees him as "a man who has a vision, who sees what has to be done and does it". The only person who actively works against him is Jughead; he sees that Hiram is buying up the Southside and expanding his empire ("like Dracula"), he just has to find out why. Betty doesn't have that much to do with the Hiram plot because she's busy figuring out whether the creepy gay guy now living in her house is her long-lost (half) brother or an imposter with sinister motives. Also, Chic (the maybe half-brother, maybe imposter) killed a guy in their kitchen – which Betty and her mom covered up – so she doesn't really have time to deal with Hiram doing crime.
That doesn't mean she remains unaffected; when the friends take a weekend trip to "Lodge Lodge", the Lodge's lake house at Shadow Lake, Hiram Lodge takes the opportunity to buy up not only the Sunnyside Trailer Park (where Jughead, FP and most of the Serpents live) but also the Riverdale Register, the only independent newspaper in town. The ensuing fight gets interrupted by an armed robbery that culminates in Archie pursuing the robbers and eventually walking away as one of them gets shot by the Lodges' bodyguard. Still, the tension rises between the core four as they find themselves on opposite sides of this issue; Jughead and Betty oppose corruption and Hiram's plan of turning Southside High into a private, for-profit prison while Veronica and Archie support it. During the Carrie musical episode, though, Betty and Veronica make up just in time for the Black Hood to reappear.
During the last few episodes, Betty realises Chic is an imposter and leaves him at the Black Hood's mercy only to find out that the man who's been murdering people all around town is none other than her father, Hal Cooper. That recontextualizes some of the psychological torture at the beginning of the season and catapults Betty to the pole-position of the "Riverdale main characters with shitty parents" ranking. Close behind follows Veronica, as her parents gaslight and manipulate her on several occasions. Also, her dad first antagonises her boyfriend, later instrumentalises Archie's anger and trauma to turn him into a weapon and then ends up framing him for murder, which isn't cool. He's also a criminal who kills people, but that doesn't affect Veronica all that much.
Aguirre-Sacasa has said that Riverdale is more of a "loss of innocence" than a "coming of age" story and that is very apparent this season. The characters fail in most of their endeavours. Jughead doesn't want to join the Serpents but becomes their leader in the end; he desperately attempts to save Southside High (and with it the entire Southside), but in the end, it becomes a private, for-profit prison that doubles as a drug lab. Veronica's effort to keep her parents "honest" completely misfires; instead, she becomes more criminal herself. The character who loses the most, though, is Archie. After being traumatised by the Black Hood, he gets inspired by Hiram to form the "Red Circle" and goes spray-painting their symbol on random buildings on the Southside to let the Serpents know they are being "watched". Riverdale is not subtle in its messaging and allegories; the gang is called "the Northside neo-nazis" by one of the Serpents. The gang gets disbanded within two episodes, but that doesn't mean Archie's brush with fascism is over. After the (fake) Black Hood is caught, he falls in with the Lodges and becomes "Hiram Lodge's teen-capo", aka Hiram's right-hand man. He accepts the criminal aspects of Hiram's plans because he is convinced that he will bring safety and order to Riverdale. This goes so far that Archie tells Hiram he is willing to kill for him. Fortunately, he sees the error of Hiram's ways when Hiram hires a Serpent to play the Black Hood and shoot Fred. (Archie's dad is running for mayor against Hermione Lodge and is very much opposed to turning a former high school into a private, for-profit prison.) Still, Archie's views have fundamentally changed (in season four, he repeats a line Hiram said to him upon their first meeting) and the season ends with Archie being framed for the murder of Cassidy Bullock, the robber from the lake house. He deals with the ramifications of the things he does for a long time to come. Season two also shows that, in the face of large-scale political corruption and organised crime, a bunch of teenagers are a little out of their depth.
For some, this was the season which made them realise that Riverdale is unlike any other show. I didn't even have the space to mention Jughead getting beaten to death by Penny in the season finale (don't worry, he's fine). The colours are brighter than in season one, the plots more spectacular; tonal whiplash is a given in almost every episode as homoerotic wrestling gets juxtaposed with the genocide of the Uktena people who lived on the land before the Blossoms had it conquered ("The Wrestler", 2×11) and the aforementioned episode placing the core four at the lake house has some side characters watch Love, Simon and a coming out as the b-plot. The dialogues, only hinted at in this surface-swim, are unique, to say the least. Still, many viewers and critics were left wondering: Are they doing this on purpose? What's the goal of any of this? After season three, though, you either realise Riverdale is a camp mix between Glee and Twin Peaks that wants to set the record for "most queer characters on a teen show" (some even believe that Aguirre-Sacasa's end goal is to finally have a canonically gay Archie Andrews without getting sued), or you write the show off as incomprehensible garbage. What makes the season so special? Tune in next week to find out.
Riverdale Season 5 will start on Netflix January 21.
Amina was listening to Jingle Jangle by The Archies while writing this article.